Warehouse Automation Finance
Funding for Warehouse Automation, Robotics and Picking Systems
With Warehouses looking to increase productivity and reduce overheads, many are investing heavily in Warehouse Automation.
As technology advances, businesses that either make or move products are looking to increase productivity, reduce overheads and stay ahead of competitors by investing in the latest warehouse and distribution equipment & solutions.
We specialise in supporting Warehouses with automation, including the use of Warehouse Robotics, picking systems, and warehouse automation technology.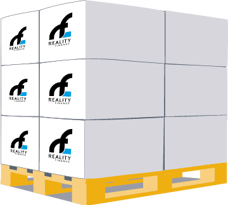 How Does our Warehouse Finance Work?
At Reality Finance, we work suppliers of all shapes and sizes.  We usually work with a Client when they have obtained a quote from a supplier and wish to pay it in monthly installments.   Not all suppliers offer a monthly payment option, or if they do it will not always be at a competitive rate.    We will take your quote or "shopping list" from your supplier, approach our panel of funders and search for the cheapest repayment terms for you.
Examples of items that can be funded through Finance are:
Warehouse Robotics
Automated Warehouse systems
Automated Warehouse Picking
Warehouse Carousel Systems
Pallet shuffle automation
Racking
Packaging Machines
Production Lines
Hygienic cladding
Aerial DronesSecurity Systems
Extraction Equipment
Grid layouts and Flooring
RFID sensors and Scanners
Automated Storage and Retrieval Systems (AS/RS)
Picking and Replenishment Stations
Heating & Lighting Systems
Funding Solutions 
Reality Finance can wrap the entire cost of the Warehouse Automation project, including the costs of the items mentioned above into one monthly affordable cost meaning new equipment can provide a positive ROI from day one. 
Using a panel of specialist banks, they can package a Finance solution that could run over a period of up to 5 years. This means that Warehouse & Distribution centres can pay monthly whilst enjoying the benefits the new equipment provides.
Benefits of Leasing and Asset Finance
Using Finance allows you to increase productivity and purchase the equipment you need without paying upfront. Paying in monthly installments frees up cash flow and opens additional lines of credit.
Asset finance is generally secured on the equipment being funded - unlike overdrafts or loans which may need additional security such as charges over assets, book debts, property or guarantees.   This means the funding can be arranged seamlessly and without impacting on existing credit lines.
No upfront costs
5-star service rating
Same-day credit approvals
Variety of funding options available
No minimum turnovers
Available terms: 3 months to 5 years
Case Study:     Reality Finance has been working with OrderWise since 2010, offering easy and affordable funding for their solutions. Reality can fund the entire project cost of the Robotics solution as well as any other IT / Equipment purchases you wish to make, including the costs of Vehicles Security.