Back
Reality Finance work with Packaging Automation Limited
Reality Finance has been working with Packaging Automation to streamline their purchasing processes: making it more efficient and cost-effective for businesses to invest in essential equipment.   First introduced to Reality Finance in 2012, the two companies work together to bring affordable payment solutions to every customer, enabling them to maintain efficiency in their production lines.
Who are Packaging Automation Limited?
Packaging Automation Ltd is a British manufacturer of packaging machinery with specialist knowledge of tray heat sealing technology and factory automation.  They work with food manufacturers, the retail supply chain, and packaging manufacturers to bring customers sustainable packaging solutions.
Sam Ashton, Commercial Director at Packaging Automation Limited says: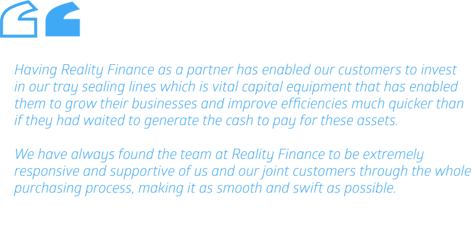 Purchasing Made Easy with Lease to Buy

Offering customers a monthly payment option via a Lease to Buy solution enables PA's customers to take advantage of the benefits of Leasing:
Enables them to purchase their equipment now and pay overtime, as it's being used
Retains their capital to invest in other areas of the business
A set monthly cost enables them to manage cash flow, forecast, and plan ahead
Flexible payment terms including deferred or seasonal payments are available
Paying monthly means no delay when acquiring the products they need
Quoting On the Go
Reality provided PA's Sales Engineers with an easy-to-use quotation calculator so they can demonstrate customer costs and savings that they include with every quote, which helps more of their customers to make a fast purchasing decision.
Supporting a Fast-Growing Food Manufacturer
Reality Finance have recently worked with Packaging Automation to support a Yorkshire-based manufacturer of specialist gluten and dairy-free food products. This company was producing over 20 million meals a year for major supermarkets and food outlets and was in demand to produce more of their product.
Challenge
With the new factory set up and running, and with the brand growing, orders from leading supermarket chains continued to increase. The production line was struggling to keep up with the demand, with the company having to turn away new orders, stopping the business from growing further.
The company recognized that to increase its production volume, it would need to invest in specialist machinery including an additional packaging and production line – a significant capital investment.   With immediate cash reserves allocated to other areas of the business, the company needed an alternative method of funding its new equipment.
Solution
Reality Finance was able to put together a monthly payment solution, enabling the company to spread the cost of its investment over a 5-year period. The purchase was an Eclipse SL4 Atmospheric Heat-Sealing Machine Installation as well as spare parts, accessories, and delivery, supplied by Packaging Automation.
This new equipment was delivered and installed within weeks of the initial order, meaning the manufacturer could increase their production and meet the demands of their suppliers.
Benefits
Jason Turner, specialist Account Manager at Reality Finance arranged the finance on behalf of the company:
"Our customer needed to increase production quickly and we were keen to support them with getting the required kit into place. With the Packaging Automation supplied machine and our support with the funding, they were able to double their production line immediately".
Sam Ashton continues: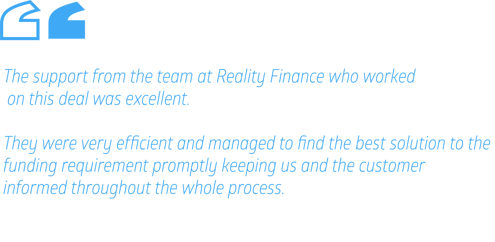 Further Information
For more information on the products and services provided by Packaging Automation Limited visit their website:    https://www.pal.co.uk/
If you are looking to purchase equipment in the Manufacturing or Packaging Industry please speak with our specialist Account Manager at Reality Finance, Jason Turner on 01483 413730.