Back
Share
Reality Finance and Loma Systems
Reality Finance have been working with Loma Systems since 2016, providing their clients, who range from multinational food brands to family-owned businesses, with Easy Payment Plans.   These plans help align income with their expenditure, so they can invest now in essential inspection equipment without draining valuable cash reserves.
Who are Loma Systems?
Established in 1969, LOMA SYSTEMS designs, manufactures and supports inspection equipment used to identify contaminants and product defects within the food, packaging and pharmaceutical industries, principally offering Metal Detectors, X-ray and Checkweighing inspection systems.
Easy Payment Plans
Reality offer Loma customers an Easy Payment Plan solution so they can purchase their equipment when needed and pay overtime, and as it's being used.
Loma customers then continue to enjoy the full benefits of financing their investments:
Retains their capital to invest in other areas of the business
A set monthly cost enables them to manage cash flow, forecast, and plan ahead
Flexible payment terms including deferred or seasonal payments are available
Paying monthly means no delay when acquiring the inspection solution needed
Reality Finance provides same-day approvals and takes care of the paperwork
Combining Super Deductions with a new purchase
Equipment supplied by Loma Systems qualifies for the Government's Super Deductions Scheme, and, combined with an Easy Payment Plan solution enables businesses to not only offset the cost of the Finance but to make overall cash savings, as per the price illustration below: *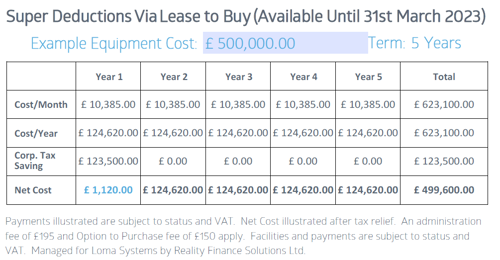 Making X-ray even more affordable
The Easy Payment Plan is available across Loma's X5 X-ray Series and available with no deposit.
For £1,295 per month* customers can acquire Loma's X5C X-Ray system. With the combined tax relief via Super Deductions (up until 31 March 2023), customers benefit from a 130% first-year capital allowances on qualifying plant and machinery investments.    Customers are likely to pay virtually £0 in year one and it is available to companies paying corporation tax. The tax benefit applies to new plant and machinery.

* Based on 60 payments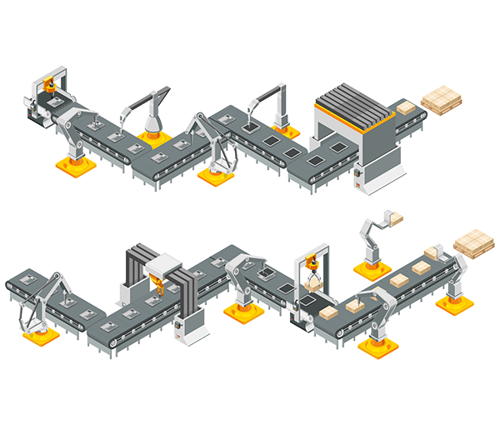 A Partnership focused on meeting customer demands
"Reality Finance provide competitive lease rates enabling our customers to spread the cost of purchasing new equipment with our Easy Payment scheme. They are happy to talk directly with our customers and offer expert financial advice. In this difficult economic climate, we are looking to build on our relationship to make purchasing even easier for our customers."
Mark Jackson-Nichols | UK Sales Director, Loma Systems
For more information on the products and services provided by Loma Systems visit their website:    https://www.loma.com/en-gb
If you provide products to or are looking to purchase equipment in the Manufacturing or Packaging Industry, please speak with our specialist Account Manager at Reality Finance, Jason Turner on 01483 413730.