Invoice Discounting
Use our confidential invoice discounting facility as a source of working capital
Invoice Discounting, also known as Invoice Finance or Invoice Factoring, is a way for businesses to free up cash from their outstanding invoices.
What is Invoice Discounting?
Invoice discounting is an invoice finance facility used by businesses as an alternative way of drawing money against invoices to better manage their cash flow. The business effectively sells its invoices to an invoice discounting company that pays out the majority (up to 90%) of the invoice value within 24 hours. Once the invoice is settled by the customer, the invoice discounting company pays out the remainder of the invoice, minus their fees for the service. Simple!
It's important to note that Invoice Discounting is NOT a form of debt and that you can only use one Invoice Discounting facility at a time.
How does Invoice Discounting work?
Once your invoice discounting facility is in place with the lender, you send a copy of the invoice(s) over to them and they release funds to you, giving your business additional cash flow.
You will invoice your client as usual and upload the same invoice to the online funder portal.
Up to 90% of the invoice value is paid directly into your business bank account within 24 hours.
Your client will settle the invoice directly with the lender when it's due, and the funder will release the remaining 10% into your business bank account minus fees.
This completes the payment cycle.
Benefits of Invoice Discounting
Access to cash, quick
Finance solution to improve cash flow
Source of working capital without relying on a loan
No waiting for customers to pay invoices
Keep business running smoothly
Perfect for a start-up business with creditworthy customers
No stringent borrowing requirements
Make cash payments to your suppliers so you can reduce your production costs
Invoice Discounting: How does it work?
1 - Send the invoice to your customer as usual, but also send a copy to the lender
2 - The lender pays your business up to 90% of the invoice value within 24 hours
3 - The customer pays the lender the full invoice value
4 - The lender pays you the final amount of the invoice minus their fees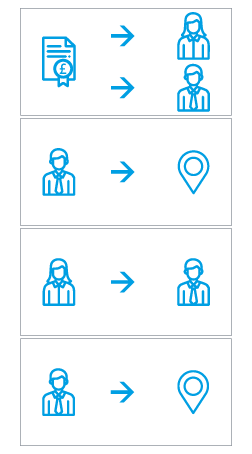 Why use Reality Finance for Invoice Discounting?
We work with a portfolio of funders to find the best deal suited to your business needs. Once a funder is established and an Invoice Discounting facility is in place, you will upload your invoices to an online portal and the funder will release a percentage of the value of the invoice, up to 90%, within 24 hours.
Dedicated Account Manager
Confidential Invoice Discounting; meaning debtors are not informed of the arrangement
An easy-to-use online portal to upload invoices
Choose which invoices you want to upload
We work with all businesses, from start-ups to large companies
5* Service Rating on Feefo
As well as providing Invoice Discounting, we fund all sorts of weird and wonderful assets.
Take a look here: