Partners & Suppliers
Offer monthly or split payment options 
Get paid upfront while your customer pays monthly
Fixed and flexible rates
Quote on the Go with our monthly payment calculator
 
Why Partner with Reality Finance
Drive sales by offering your customers fast and flexible monthly payment options
Asset Finance for all limited companies, from start-ups and small businesses to large organisations
We are a principal lender in our own right; meaning additional flexibility in funding options for your customers
Use our Monthly Payment Calculator for you to easily use when quoting your customers, which means you don't have to contact us for every quote
Funding decisions made within 24 hours; your business gets paid quickly
We are a top Asset Finance Provider, demonstrated in our consistent 5* Feefo ratings
Industry Suppliers
---
We work with Suppliers from industries across the board, supplying their business customers with monthly payment plans. These could be on smaller assets starting from £1k to large acquisitions of £5,000,000.
Who can we support?
We offer finance facilities for Limited Companies only. 
If your customer is a Consumer, Sole Trader, or Partnership it is a legal requirement that you are authorized and regulated by the Financial Conduct Authority before we can offer a Lending facility. For more information please visit the FCA Website.
Quote on the Go with our Monthly Payment Calculator
Tailored with our special rates, and uniquely branded with your company logo, the calculator does all the number crunching for you.   You can calculate monthly rentals based on a total invoice value or calculate an invoice value based on monthly rentals.
Available both online and on mobile devices (iOS & Android), the Vendor Finance Calculator can be used anywhere and at any time, adding significant value to your business, saving you valuable time, and helping you close more business.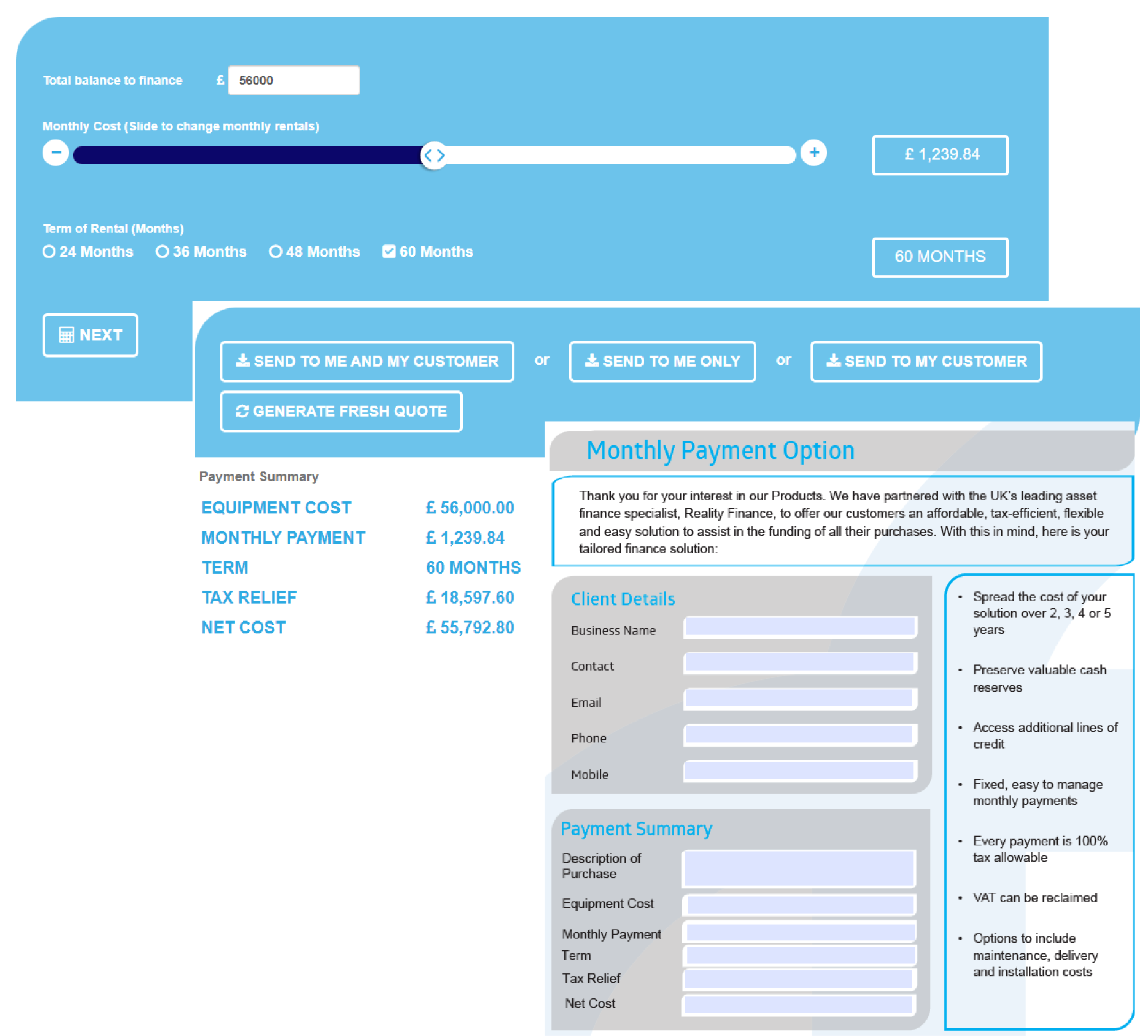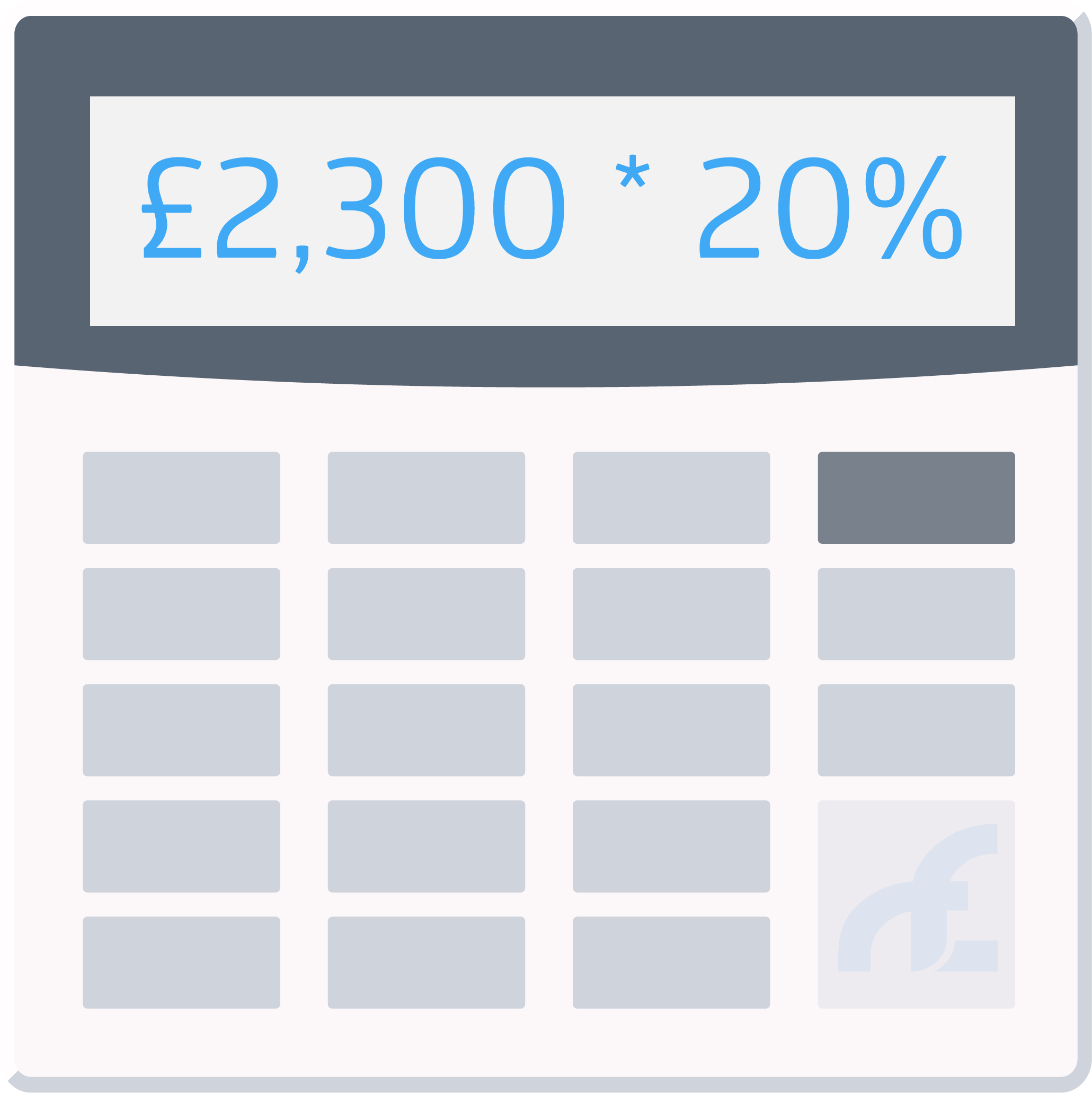 How does our Vendor Finance work?
---
You get paid upfront, whilst your customers pay monthly.
Use our Calculator to generate monthly option and present alongside your usual quote
Customer chooses to pay monthly
Reality underwrite facility and produce formal documents
You deliver your customer solution
You get paid upfront whilst your customer pays monthly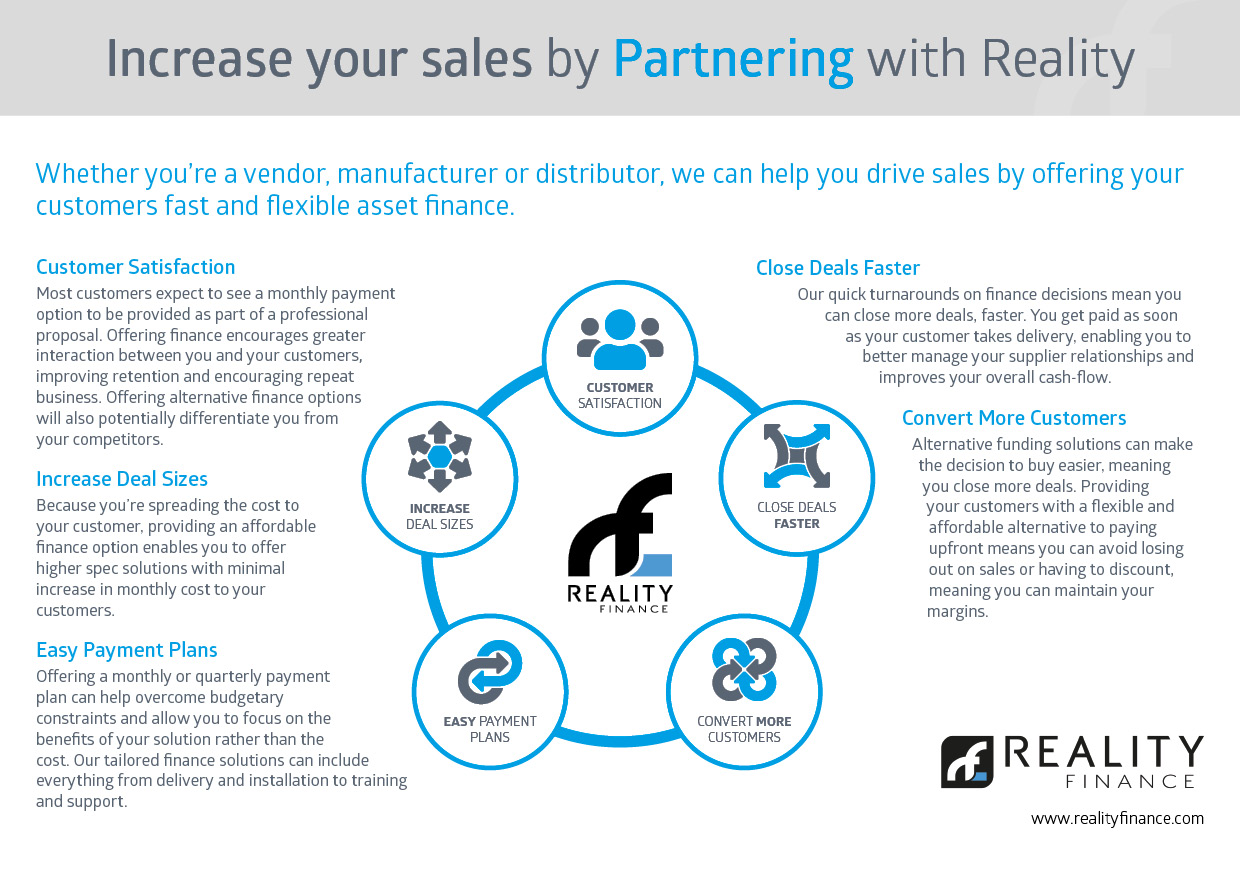 Case Study
Cre8tive Space is a specialist commercial interior solutions provider. They design and build inspirational workspaces, creating environments that allow their customers and their teams to work to their full potential. We spoke to Stevette Potts, Managing Director at Cre8tive Space, about how Partnering with Reality Finance to offer their customers a finance option has "opened doors" for her business.
To highlight our Partnership success, we looked at an example of a project for Arken, providers of automated document drafting and business efficiency technology solutions for private client legal firms. A year since completion, we visited Arken's new Cre8tive-Space-designed office with Stevette to observe the impact the project has had on business success.
Challenge
As a growing business, Arken was looking to "change the business up" and expand into new premises. David Newick, Managing Director, was tasked with ensuring their new location would cater to their planned growth and also reflect the company culture he was trying to achieve.
Having already found a location, David needed a Supplier that could deliver a comprehensive design and fit-out solution within his "very compressed time-frame". 
Solution
Through initial conversations with David, Stevette understood the urgency of his requirements for Arken. Given the specific nature of the situation, she quickly enlisted help from Jason Turner, her Account Manager at Reality Finance, to begin potentially getting the finance in place for the project.
Benefits
Stevette knew that "bringing Reality Finance in at a relatively early stage meant that while we were going through the quoting process, and negotiating that package, Reality in the background were actually taking care of all the finance issues without us really having to be concerned with that until the day we were told that the finance was in place and we could start our project."
Arken didn't need to take out the finance to complete the project, but David explained that "when you look at financing you've got to consider the state of your own business and in a fast-growing business like ourselves its really important that we apply capital in the right places. So rather than applying that to furniture and fit-out, we were able to take a deal with Reality Finance which meant that we could invest in our business the things that are creating really fast growth."
Case Study | Packaging Automation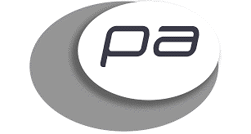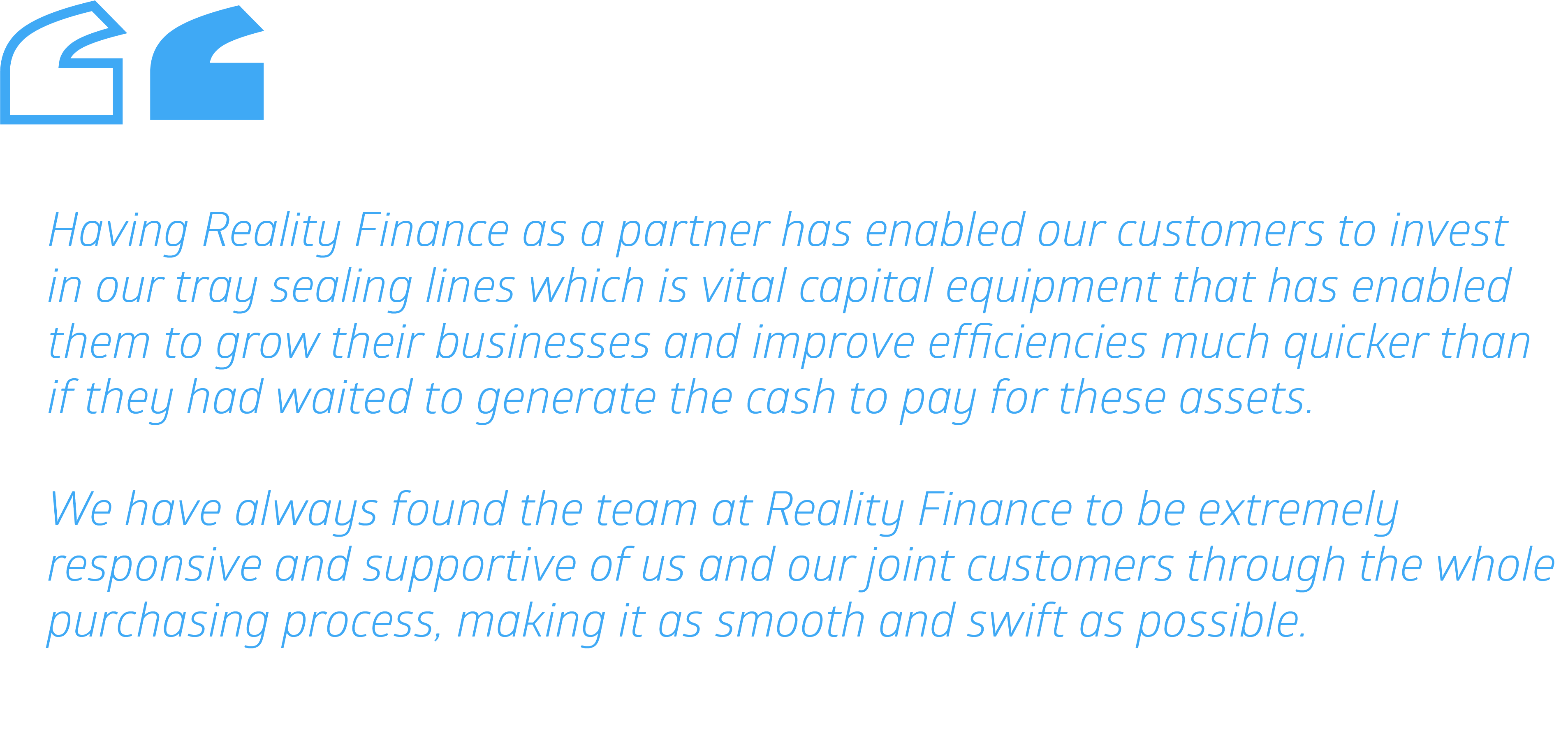 Jason Turner, specialist Account Manager at Reality Finance arranged the finance on behalf of the company:

"Our customer needed to increase production quickly and we were keen to support them with getting the required kit into place. With the Packaging Automation supplied machine and our support with the funding, they were able to double their production line immediately".
Supporting a Fast-Growing Food Manufacturer
Reality Finance have recently worked with Packaging Automation to support a Yorkshire-based manufacturer of specialist gluten and dairy-free food products. This company was producing over 20 million meals a year for major supermarkets and food outlets and was in demand to produce more of their product.
Challenge
With the new factory set up and running, and with the brand growing, orders from leading supermarket chains continued to increase. The production line was struggling to keep up with the demand, with the company having to turn away new orders, stopping the business from growing further.
The company recognized that to increase its production volume, it would need to invest in specialist machinery including an additional packaging and production line – a significant capital investment.   With immediate cash reserves allocated to other areas of the business, the company needed an alternative method of funding its new equipment.
Solution
Reality Finance was able to put together a monthly payment solution, enabling the company to spread the cost of its investment over a 5-year period. The purchase was an Eclipse SL4 Atmospheric Heat-Sealing Machine Installation as well as spare parts, accessories, and delivery, supplied by Packaging Automation.
This new equipment was delivered and installed within weeks of the initial order, meaning the manufacturer could increase their production and meet the demands of their suppliers.
"Reality Finance provide competitive lease rates enabling our customers to spread the cost of purchasing new equipment with our Easy Payment scheme. They are happy to talk directly with our customers and offer expert financial advice. In this difficult economic climate, we are looking to build on our relationship to make purchasing even easier for our customers."
Mark Jackson-Nichols , Director, Loma Systems
Having Reality Finance as a partner has enabled our customers to invest in our tray sealing lines which is vital capital equipment that has enabled them to grow their businesses and improve efficiencies much quicker than if they had waited to generate the cash to pay for these assets.
We have always found the team at Reality Finance to be extremely responsive and supportive of us and our joint customers through the whole purchasing process, making it as smooth and swift as possible.
Sam Ashton , Commercial Director, Packaging Automation Ltd
Jon Jorgenson , Chief Sales Officer, The Access Group
Working with Reality Finance has allowed my sales teams to close of a number of deals that would not of been possible without their knowledge and experience of arranging finance in my industry.
James Cannon , Managing Director, Guestline
Why Reality Finance?
---
5 star service rating
Verified by Feefo
Over 30 lenders on our panel
so we can source you the best deal
Lender in our own right
Provides additional flexiblity
Funding hard and soft assets
Anything you need for your business
22 years of trading
Established in 2000 and privately owned