Vendor Finance Calculator
The quick and easy way to quote your customers lease versus buy costs
The Vendor Finance Calculator allows you to generate monthly payment costs to include in ALL your customer quotations.
Tailored with your pre-agreed, competitive rates and uniquely branded with your company logo, the calculator does all the number crunching for you. You can calculate monthly rentals based on a total invoice value or calculate an invoice value based on monthly rentals.
Available both online and on mobile devices (iOS & Android), the Vendor Finance Calculator can be used anywhere and at any time, adding significant value to your business, saving you valuable time and helping you close more business.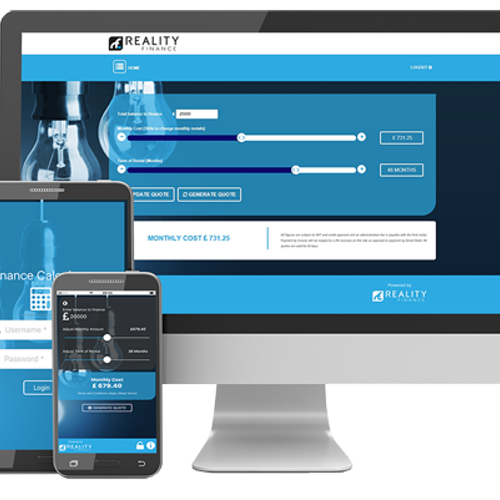 How it works
The calculator is easy to use:
Login into your own-branded calculator online or via the mobile app
Enter the balance your customer is looking to finance and the term (months)
Monthly payment figure is displayed
Use the sliders to adjust the term or the monthly rentals so that you can quickly tweak your quote to match your customer's budget. There's also an option to generate a branded PDF quotation that you can email directly to your customer or print off and attach to your quote.
Benefits
Fast and convenient - generate monthly payment options anytime, anywhere
Include a monthly payment option in ALL your customers' quotations
Easy to use - simple, 3 step process
Uniquely branded with your company logo
So what are you waiting for? Download the Vendor Finance Calculator brochure here.
To get your own branded calculator, contact our vendor team on 01483 413859 or email sales@realityfinance.com